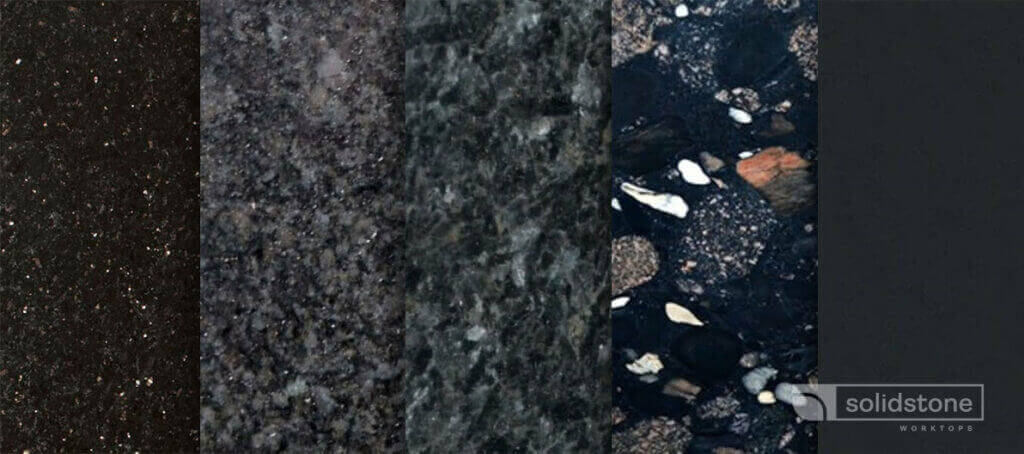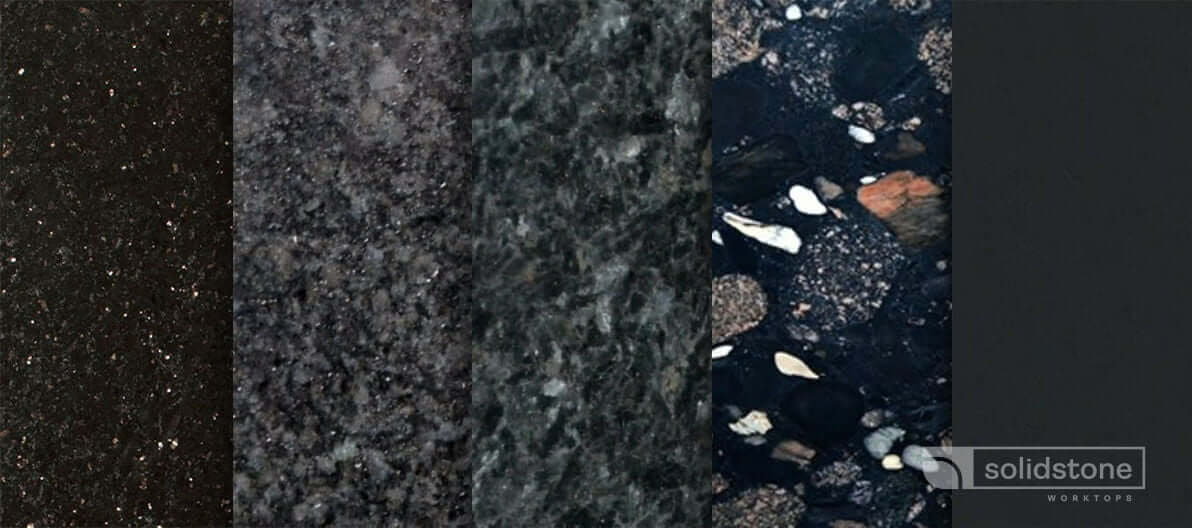 Black is a versatile colour that always looks stylish and elegant, no matter what colours you pair it with. 
When it comes to a low maintenance, durable worktop, black granite is a fantastic option and one of the most popular options for kitchens around the country. 
Granite is notoriously long-lasting, natural and holds up to impact and heat.
So how do you choose the right black granite worktop for your own home with many styles and patterns to choose from, it can be hard to narrow it down.
We've compiled a list of our top 5 picks for beautiful black granite surfaces, along with some of the benefits of choosing a darker worktop for your property.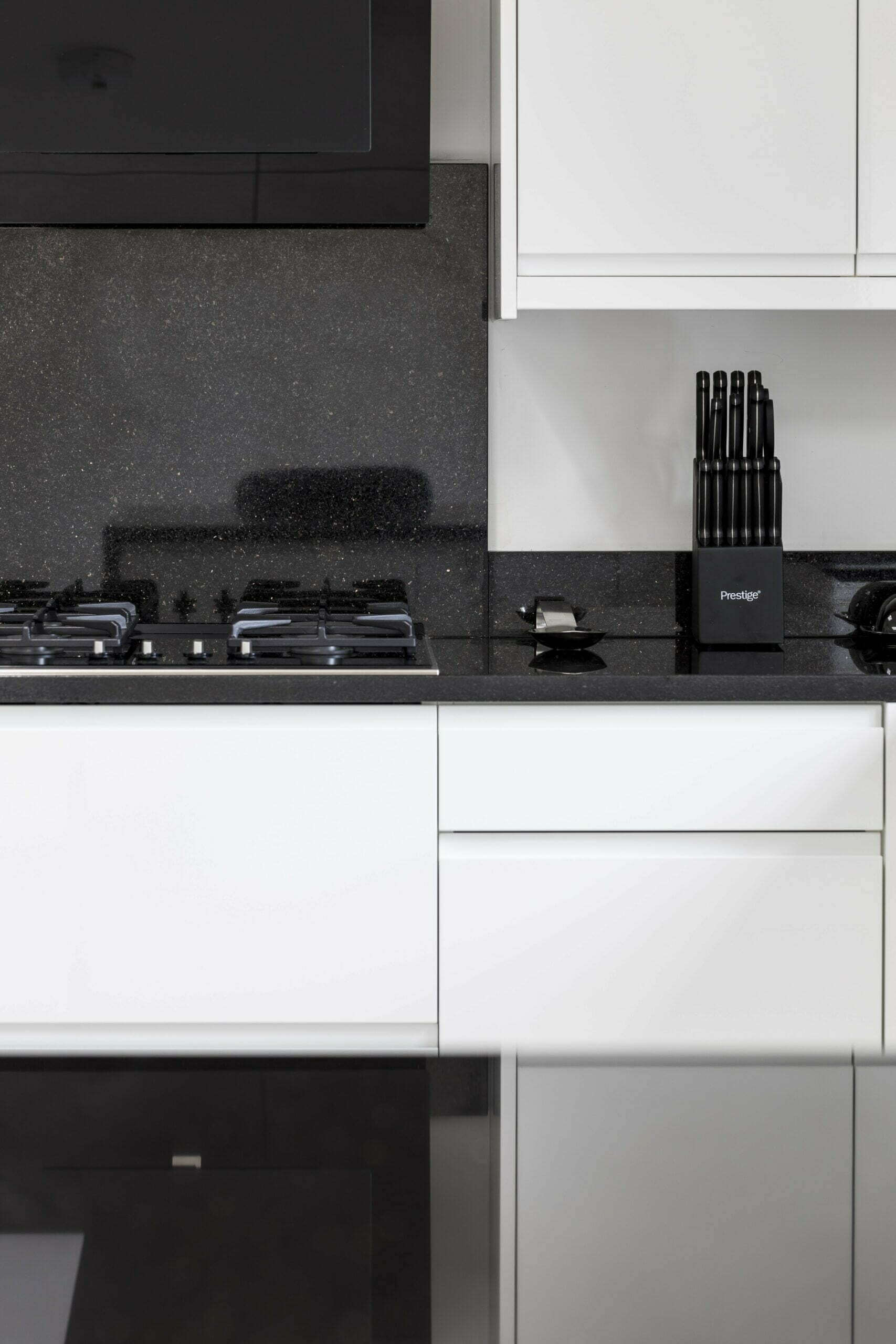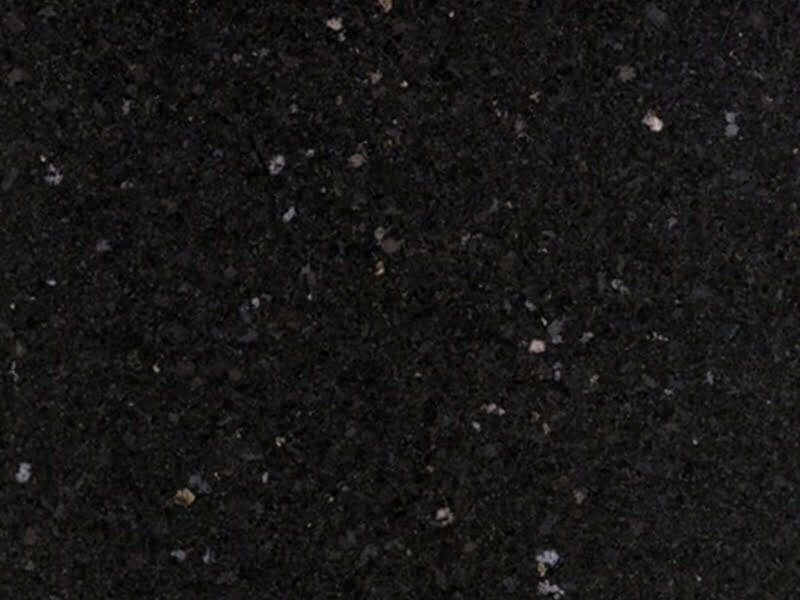 One of the benefits of choosing granite is that while granite worktops are completely flat, they offer so many options for rich texture to complement your kitchen cabinets. 
The beauty of natural materials is that they are always individual to your own home, plus they're environmentally friendly and offer a wealth of pattern options to add character to your kitchen.
Why not pair your granite worktops with wooden cabinets for a rustic look that's elegant and classic? Or opt for a simple black worktop to pair with modern laminate cabinetry for a contemporary, minimalist finish.
Granite is a porous material, so it needs sealing before use in a kitchen, but once it's been sealed, it's incredibly low maintenance. 
Sealing prevents staining and avoids the risk of mould-forming bacteria from building up on the surface so it's hygienic for cooking and preparing food. 
Granite can be cleaned easily with warm water and mild soap, without the need for chemical cleaners, so it's perfect for busy households where you just want to be able to cook without having to worry.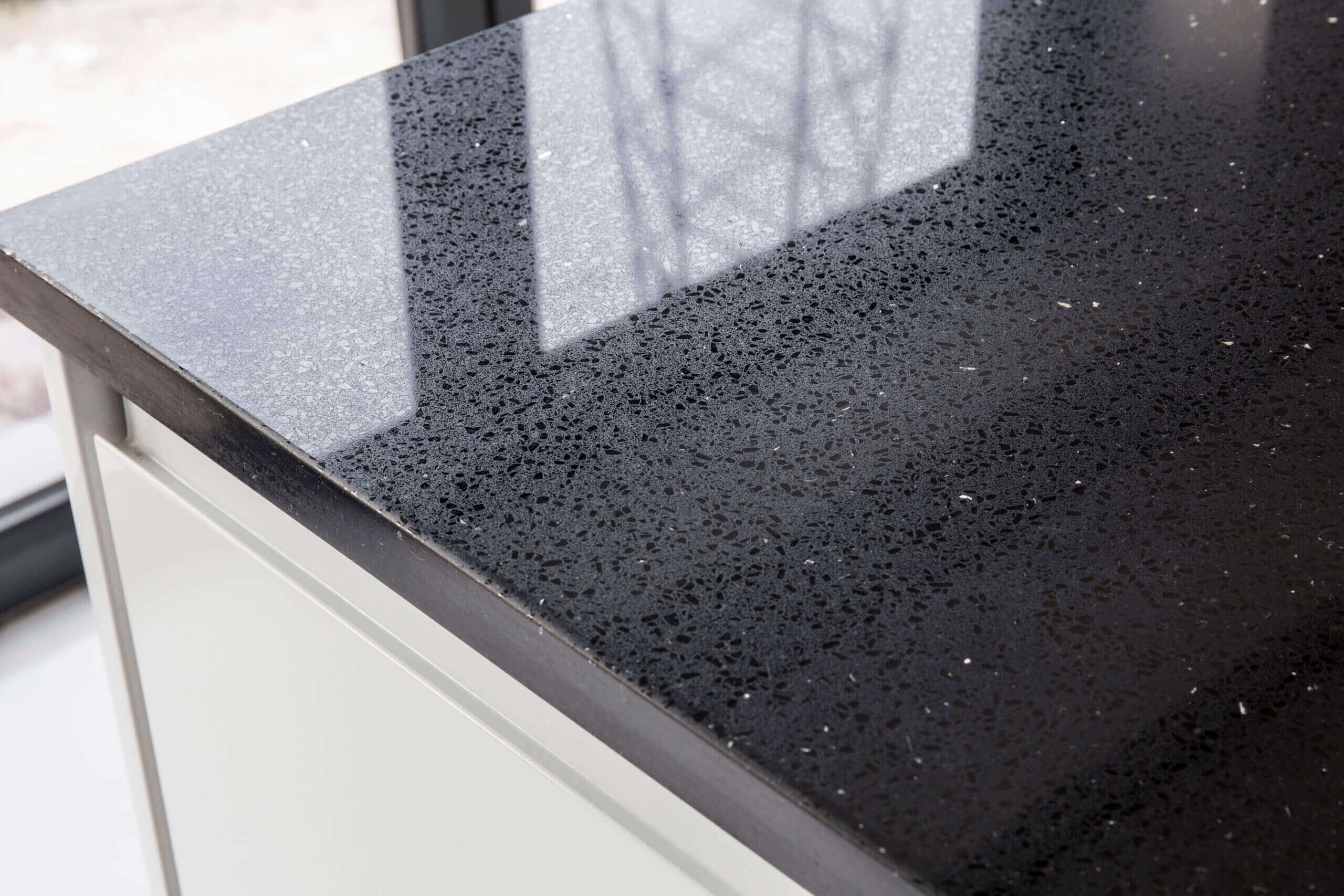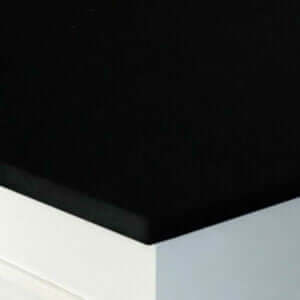 Granite is a natural material so no two slabs are the same. Whichever style of black worktop you choose, you can be confident that it's unique to your home and is a custom result that no other homeowner can copy. 
Granite worktops are perfect for that individual touch that adds something special to any home. 
Black granite is impactful without being gaudy – it's a sophisticated choice that has the potential to completely transform your kitchen, even if you change nothing else about the décor.
The benefits of black granite worktops
As a neutral tone, black can make a dramatic difference to your kitchen without you needing to completely transform every aspect of the décor.
 It enhances other colour schemes and contrasts perfectly with all other colours, so you can change up your colour scheme as often as you like, while still being confident that your work surfaces will match.
Black granite worktops come in a variety of styles and finishes, adding a statement look that's unique to your property.
Whether you have a traditional kitchen or prefer a contemporary look, black granite will work well.
Granite worktops can be sized to suit your kitchen, from slim to chunky, with accessories and finishing to accentuate the property, such as upstands and splashbacks.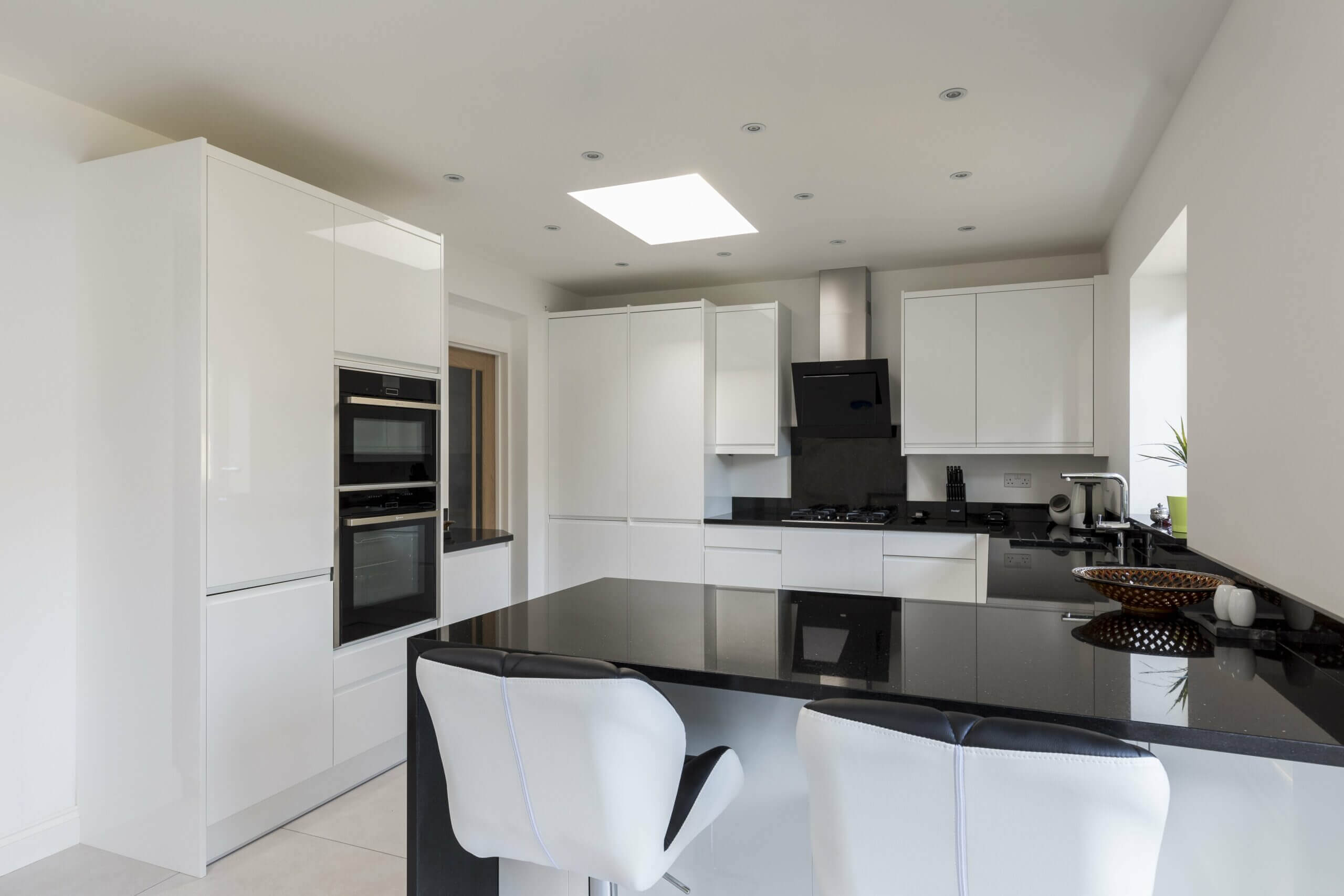 Our top picks for black granite worktops
Black Star Galaxy Granite
Our most popular choice, the Black Star Galaxy Granite worktop is a modern choice that's among the top 3 picks for homeowners in the UK. 
It's elegant and classic while still looking contemporary. This style of worktop has a rich black tone with gold and silver-like flecks throughout, and can be finished in several ways, from a classic polished look to sawn cut, sanded and honed. 
For homeowners looking for a modern look, the Black Star Galaxy Granite is a great choice.
Also referred to as Afrika, Nero Impala Granite is quarried in Africa and is a plain black surface with small specks of grey, creating the illusion of a lighter worktop compared to other black granite options. 
It's elegant, glossy and has a sophisticated look that works well in any space.
The polished finish to Nero Impala is perfect for complementing all types of kitchen cabinets and flooring, and the lighter appearance may appeal if you want a black worktop but don't want as much intensity.
A solid black granite sourced in India, Absolute Black Granite is a simple but highly impactful material that offers a consistent colour and texture. 
It's perfect for elegant and versatile worktops, but also floors, splashbacks and more.
Because of the neutral surface, it works in any kitchen and with any colour scheme, making it a very timeless option if you're someone who likes to switch up their décor regularly.
With a distinctive pattern and an array of colours set to a richly dark backdrop, the Marinace Black Granite is a show-stopping choice that's guaranteed to make an impact. 
Marinace has a deep back background with thick drops of varying shades of grey, brown and gold in various sizes. It's a gorgeous granite that's bold and modern – perfect for a stylish luxury kitchen.
Our final pick for beautiful black granite worktops is the New Angola Black Granite – an eye-catching worktop that adds a bold feature to any space.
 With a deep black base and lighter accents, it offers great texture and is polished to a high shine for a contemporary look. 
The lighter flecks balance the bold base colour, so you get a worktop that balances light and dark perfectly, making it a versatile choice.
Black granite worktops are durable and long-lasting, but the rich colour also means that they'll age well without needing to be replaced over time. 
As a stain-resistant surface, granite automatically holds up well to spillages and food preparation in the kitchen, but adding in the deep colour means that you have added protection against signs of wear and tear.
Elegant, stylish and always on trend, black work surfaces instantly transform your kitchen into a luxury space, and you can change up your décor confidently knowing that your worktops will be complementary to any style you choose.