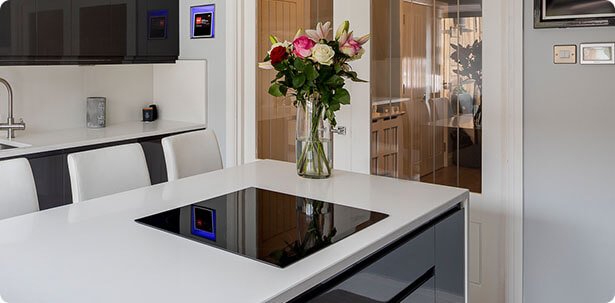 White quartz worktops are a classic option for any home, with simple sophistication and a richness that evokes luxury. 
White quartz goes with any colour scheme or interior style, and it's fresh and clean which makes it perfect for a kitchen.
This tone of worktop is an effective way to give the illusion of more space in the room, as it reflects light perfectly and brightens up the room, while still adding character and elegance.
And with a host of different finishes to choose from and price points, you can customise the look of your worktops to suit the overall style you're striving for.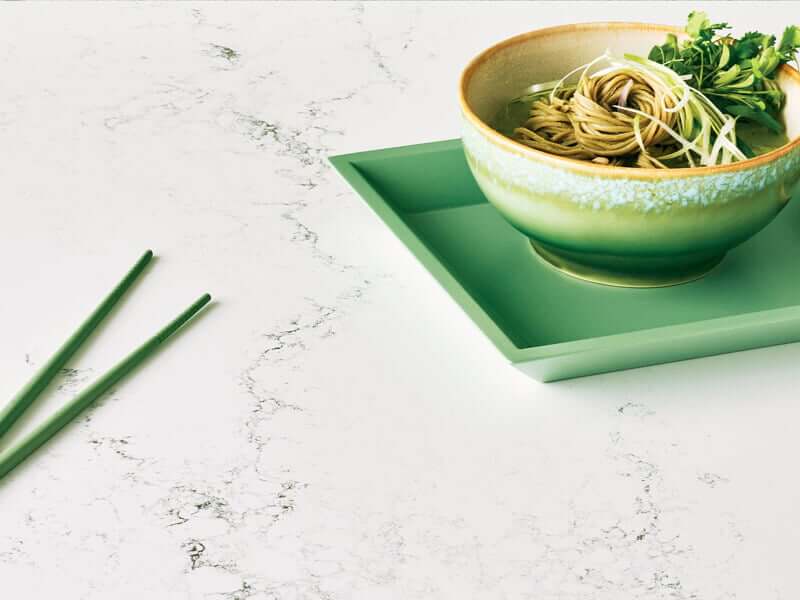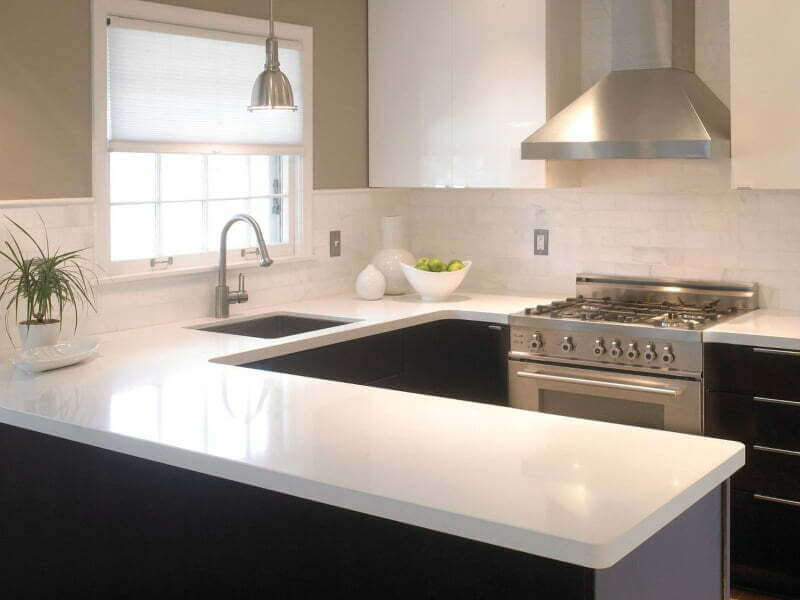 Why choose white quartz worktops?
It's a durable material that has been engineered to provide the strength of granite but with the addition of being a non-porous surface, so it won't stain or harbour bacteria.
Quartz is scratch-resistant, impact-resistant and can withstand heat, as well as being easy to clean, so it's perfect for busy kitchens, even when you choose a bright white tone.
White is associated with a clean look and freshness, which is why it's such an appealing choice for kitchens where you want to evoke that hygienic, bright and sanitary environment.
Providing you wipe up crumbs and other cooking messes regularly, your kitchen will always look sparkling.
It's also a shade that works well in kitchens of all sizes, enhancing a large space but also maximising light in a smaller kitchen to make it appear bigger and more spacious than it really is.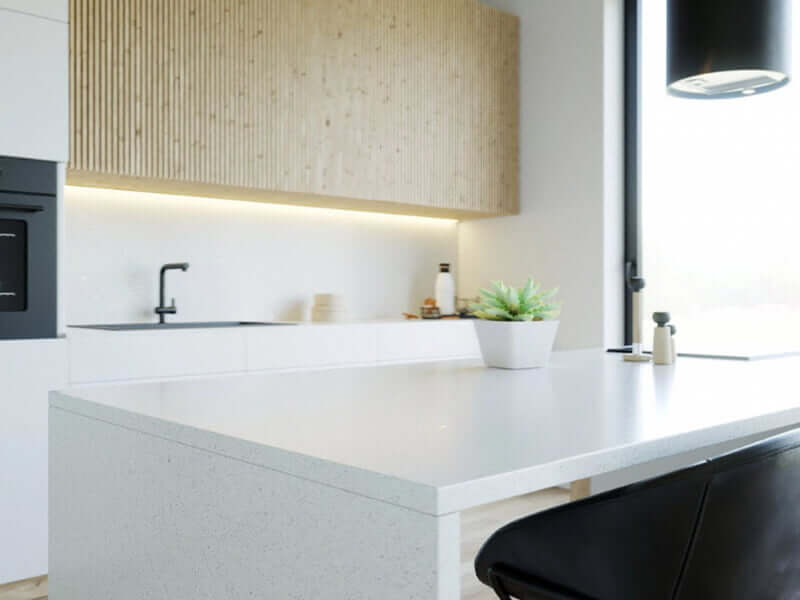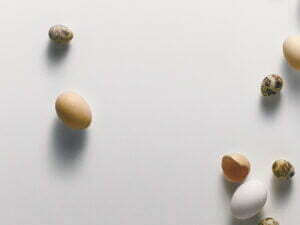 One of the many benefits of quartz is that it's an engineered material so it's non-porous and this is a benefit when it comes to staining.
While you may be worried about choosing a white worktop because of the risk of stains and marks, the good news is that quartz doesn't need to be resealed like granite in order to maintain its non-porous properties, so you can enjoy the stain-resistant benefits year after year.
In a kitchen, where spillages are bound to happen, you need your worktop to work for you, not against you. 
Quartz is a fantastic material for this, because you can spill liquids on it without the risk of them penetrating the material, making it easy to clean up without leaving a stain.
Simply wipe the surface down with a damp, soft cloth and you're done – no need for expensive cleaners or harsh chemicals.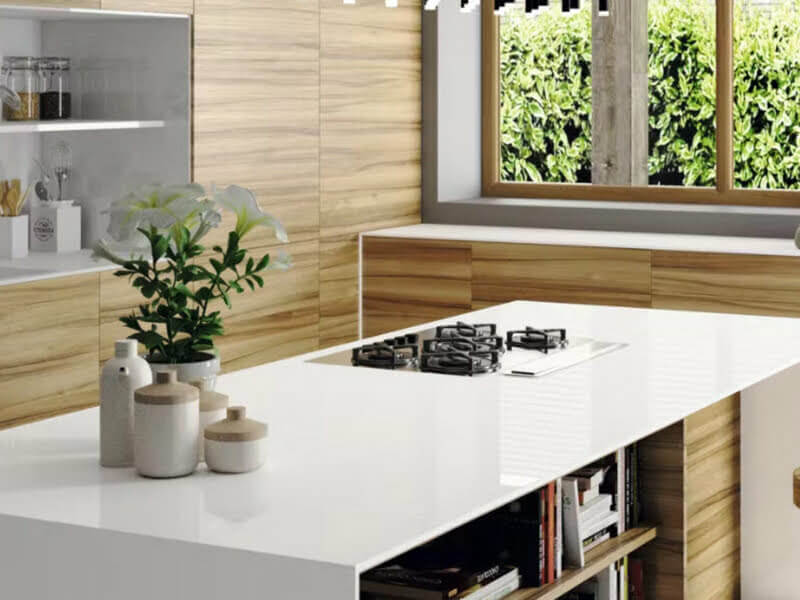 Our top picks for White Quartz Worktops
Ice Branco Quartz slabs have small sparkles for a shimmer effect, with a classic white backdrop. 
It's a popular colour option for kitchens across the UK, adding a fresh look that works well in contemporary homes in particular.
Price Range for 1m2
£401 – £500
Bold and beautiful, the Calacatta Gold slab has large veins and a mirror surface with its polished finish.
It offers an understated elegance and sophisticated neutral tones which make it a perfect choice for traditional properties or kitchens where luxury is the focus.
Price Range for 1m2
£501 – £600
Subtle but always in style, Bianca Stella has a lightly speckled background with small mirror flecks that are discreet but add a beautiful shimmer effect to the entire surface.
It brightens up the room but isn't ostentatious, striking the perfect balance for any home.
As one of the cheaper options on the market, Bianca Stella provides great value while maintaining the quality.
Price Range for 1m2
£200 – £300
Calacatta Michelangelo Quartz
A refined choice with fine veining in a broad spectrum of grey tones on a white background.
It's a luxurious option that's perfect for kitchen countertops, sinks and upstands. If you're looking for a durable alternative to marble, this style of quartz could be the perfect solution.
Price Range for 1m2
£501 – £600
Inspired by the marble of the same name, this quartz has soft veining and a brighter white background than classic marble.
A unique choice that has a similar look to Carrara but with more delicate veining, it's a great choice for traditional properties for a classic look.
Price Range for 1m2
£401 – £500
White quartz is always a classic choice, offering versatility and brightness to your home. 
If you're someone who likes to change up their décor regularly or you want something timeless that will remain in place for years to come and still look stylish, white quartz worktops are ideal.
We offer a great selection of quartz worktops in a host of shades and finishes. Contact our team today to find out more or to get a free quote.